Every six months or so I like to go through the old closet to pick through the things I haven't worn in awhile. Perhaps you remember the last purge?  I held on to this questionable  Target Xhiliration top  and I'm afraid to say it needs to go in the donate pile.  Sometimes it takes a picture to make that final decision.  If I were planning a pregnancy then maybe…but I'm not. It's time to let it go.
But onto some good news. I also added some wild animal print to the 'ol closet for a steal of a deal. I've been sort of a snob when it comes to the watch I wear (not  Cartier or anything remotely close to that…I wish..or not) but it does have to be a good brand name that I love. However, after purchasing a white MK watch I've found that I really can't wear it with everything. For that reason alone, it was not worth the purchase so as I was making my weekly Target visit I came across this animal print Merona watch for a great price of $19.99, again, not a watch you can wear with everything but at that price it's like adding a great pair of statement earrings to the mix and I felt it was totally worth the purchase.
My next stop was Macy's to use a gift card from my mom. I happened to come across these fun booties by Carlos. Regular price $99 and after sales and additional discounts I paid $34. Yay! So it was a successful shopping adventure this month spending just under $55.
What new items are you purchasing to update your wardrobe?
What I'm Wearing:
Top-Target xhileration
Skinny denim jeans-Mossimo Target brand
Shoes-Pizazz Booties by Carlos
Bag- Michael Kors saddle bag circa 2007 or 2008 (I hold onto my bags for a long time)
Bracelets- All by Stella and Dot
Watch-Merona available at Target
My goal is always to mix higher end items with inexpensive items. Next week we'll be adding a little more color to the mix.
All photo credits: XJ Creations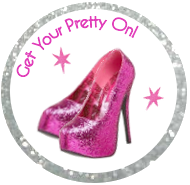 Today I'm linking up with the fabulous Get Your Pretty On blog…head over and check out some fantastic  ladies with style.